Global partnership to improve diagnostic accuracy of breast cancer
A new partnership aims to advance AI-enabled digital pathology for end-to-end breast tumour profiling
PathPresenter, a digital pathology platform and 4D Path, a Boston company producing computer-aided cancer diagnostic products, are announcing a global partnership to distribute 4D Q-plasia OncoReader Breast within the new clinical workflow platform, ClinPx.
The 4D Q-plasia OncoReader Breast uses digitised pathology slides of breast cancer tissue to diagnose disease with improved accuracy, effectively acting as an aid for clinical histopathology experts.
"We believe that the integration of these two technologies will redefine how AI can be adopted by everyday pathologists," says Rajendra Singh, M.D., founder of PathPresenter.
The primary purpose of integrating 4D's proprietary algorithms within ClinPx is to potentially improve the throughput, reliability and quality of consultations provided by physicians. Additionally, users from pharmaceutical organisations could also benefit from the enablement of the standardised central pathology review of certain biomarkers within the context of clinical trials leveraging the ClinPx platform.
"This unique partnership is very much needed to make the most of the increasing investment in digital pathology," says Tathagata Dasgupta, founder and president of 4D Path.
"While PathPresenter offers a software platform made by pathologists to serve pathologists in their digital workflow, it will have at its heart the 4D Path-driven end-to-end tumour profiling white-box solution that can produce synoptic reports to potentially assist clinical reporting."
To advance the adoption of digital pathology worldwide, 4D Path and PathPresenter have also created educational content to teach current and future pathologists about how evaluation of breast cancer features prior to downstream genomic and molecular testing can potentially improve patient care.
In the UK, 4D Path has an existing partnership with the University of Leeds, after previously completing three breast cancer clinical studies with the university.
AI to check breast cancer scans in groundbreaking NHS trial
The technology could help doctors find malignancies in mammograms, freeing up clinical time
NHS patients in England will be part of a new groundbreaking trial using AI to support breast screening.
The programme, called MIA (mammography intelligent assessment), is developed by the London-based software company, Kheiron Medical, and uses AI to help radiologists identify signs of breast cancer.
The algorithm has already been used on half a million scans from hospitals in Hungary, but it is new to the UK.
According to the Times, MIA will work alongside two members of the breast screening reading team at Leeds Teaching Hospitals NHS Trust to check mammograms from almost 7,000 women.
During the trial, also known as Libra, if the two humans and AI reader all agree a mammogram is normal, the patient will receive the all-clear.
If any of the three disagree, another radiologist will review the scan before deciding whether or not to recall the patient for further checks.
"Breast screening isn't perfect and it is hoped that the Libra study will lead to improvements in reviewing mammograms," Dr Nisha Sharma, a consultant breast radiologist at the trust and director of the breast screening programme for Leeds and Wakefield, told the newspaper.
"Cancers that present between screening rounds are often quite aggressive and the reason these can be overlooked is because they are not clearly visible on a mammogram.
"AI works differently to humans and by combining human expertise with technology advances this could lead to earlier detection of cancers and impact positively on women's lives. We will be the first breast screening unit in England to do a prospective study using AI."
Simon Harris, senior project manager at Kheiron Medical Technologies, said: "The NHS does not have enough radiologists which is leading to delays in readings and diagnoses and workforce burnout.
"To solve this problem, we are looking at how AI software could replace the second human reader and release that person to do something more clinically urgent.
"We want to demystify what AI is. It is just a piece of software that's very good at picking up certain patterns that it recognises in images and coming back with an output."
The UK is currently short of 1,669 clinical radiologists, and over 200 vacancies have been unfilled for a year or more, according to the annual census released in June 2022 by the Royal College of Radiologists (RCR).
Unless urgent action is taken, the shortfall could hit 39 per cent by 2026, equal to 3,166 clinical radiologists, the report has found.
If successful, Mia could replace one of the two human readers in standard NHS care, reducing the burden on the health system.
Breast cancer diagnostics AI startup raises US$2M in pre-series A funding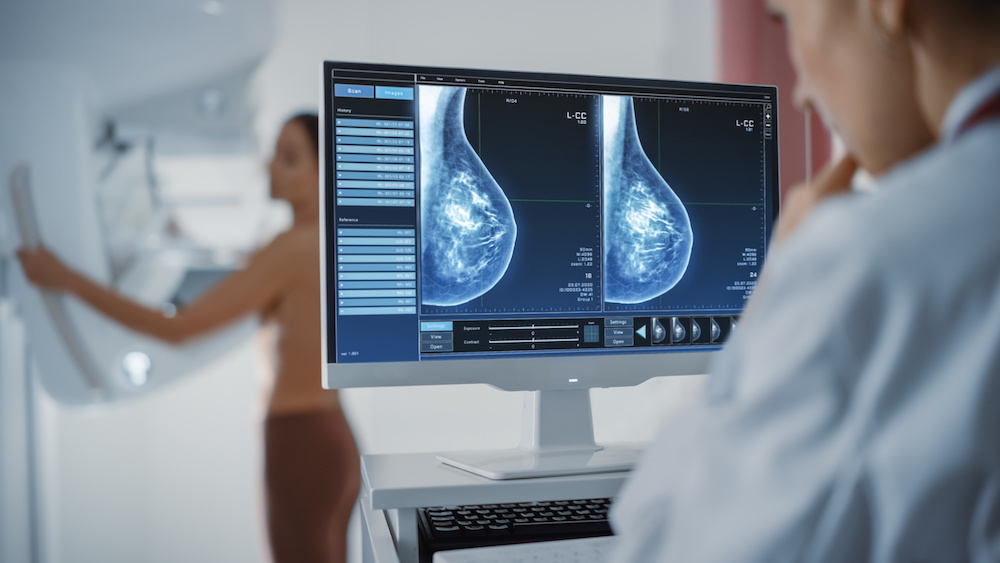 Singaporean startup FathomX raised US$2M funding to develop its AI model for mammograms.
FanthomX aims to increase the accuracy of mammograms in breast cancer detection using AI-integrated devices for detection, prevention and diagnostics. 
Through this funding, the company will be able to harness the full potential of its digital AI solution to read medical images including mammograms. The funding will further accelerate the pace of the product development and broaden the company's economical collaborations.
Professor Mikael Hartman, co-founder of FathomX, said: "We are proud and excited to be able to provide a solution for fast reliable diagnosis of breast cancer, the most common cancer in women.
"The faith of our investors by providing funding will help us deliver our vision of creating solutions for women's health."
What is a mammogram?
A mammogram is an x-ray picture of the breast that doctors use to look for early signs of breast cancer. Regular mammograms are usually the best test doctors have to find breast cancer early, sometimes up to three years before it can be felt.
The NHS breast screening programme invites all women aged between 50 and 70 for screening every three years. The person needs to be registered with a GP to receive the invitations.
What can a mammogram show?
A mammogram can show small areas of calcium in the breast tissue which are called calcification.
Therefore, mammograms can be used to look for breast cancer, either as a screening test in women without symptoms or in women who have symptoms that might be from cancer. 
A traditional mammogram creates two-dimensional images of the breast but a newer type – called a breast tomosynthesis – creates three-dimensional images.
The heart of the matter: How CordiFio is creating change
FemTech World speaks to Petronela Sandulache of CorDiFio about why heart condition diagnoses are harder for women
Heart health for women can be a difficult diagnosis to make due to symptoms mirroring other conditions. FemTech World meets Petronela Sandulache founder of CorDiFio
Petronela started her career in the consulting and automotive industry all over the world before a family tragedy made her assess her goals.
She said: "When something terrible happened in my family, it made me think about life and what it is all about. The most important person in our lives had a misdiagnosis and that was it. Someone who is relatively healthy just disappears overnight. That was when I started to investigate the disparities in medical diagnosis for women."
Petronella added: "Women present different types of symptoms that get confused with indigestion or anxiety rather than being taken seriously and having a further investigation. Once I started investigating, I found out that the number one killer of women more than all cancers combined is heart disease yet 50 per cent following an attack get misdiagnosed.
This is huge pressure on the healthcare system because misdiagnosis means wrong treatments and doctors. The ones who are paying the price are women."
Heart attacks and health
When it comes to heart attacks, women present different symptoms to men. Yet when it comes to diagnosis, the male symptoms are often used as a benchmark for how it presents.
Petronela explained: "In research conducted by the Canadian stroke and heart foundation, they discovered that 30 to 50 per cent of women diagnosed with depression are actually misdiagnosed and this can mask heart disease in women. They have only recently started to investigate the problem of heart disease, stroke or Alzheimer's disease in women and why things present differently."
Hormones are one reason why women have been excluded from studies and it's why certain conditions present differently in women. Women also face challenges when it comes to taking part in clinical trials such as childcare or pregnancy.
"Obviously we have hormones that are not taken into consideration when you just study male models. So I thought we need to do something about this because femtech is just about tracking your period, making babies or menopause. Women are much more than their reproductive organs. Everything we know about common diseases, treatments and diagnosis has been done on men," Petronela said.
"We need to do something about heart disease because if you don't know that you have it, then you can be gone in five minutes. That's why I called the company, CorDiFio, it means, in Italian, the heart of Fio which was the name of my mother. I'm dedicating this to her and all the women out there so they don't need to go through the same type of thing," she added.
The research also revealed that different ethnic backgrounds may place women at higher risks for cardiovascular diseases.
Petronela said: "It's important to note within the female population, we have ethnic backgrounds with different risk profiles. We know that African, Hispanic or southeast Asian women have a higher probability of dying from cardiovascular disease compared to caucasian women."
Heart health awareness
CorDioFio is dedicated to raising awareness so that women can detect heart problems early before it becomes a medical emergency. Its goal is to empower both women and their doctors to come up with early detection which will help to save lives.
"The great news is that 80 per cent of heart disease and strokes are preventable if caught in time. We are determined to keep women's hearts beating longer."
When it comes to CorDiFio's technology, how does it work for patients?
Petronella explained: "If you download our app or go to the website to register then we take you on a journey by asking specific questions that take about 20 minutes to answer. We will generate a personalised health report for you to download and take to your appointment with your GP. You will learn your risk factors, where you need to keep an eye out and it's something tangible to start that conversation with doctors by highlighting things you wouldn't have thought of."
She added: "We have tested this with various women from all over the world to see what their doctors say about the reports. They found that they don't have a heart problem which is great so it's peace of mind but some found they had other issues which present a diagnostic opportunity. We want to integrate this and are working with wearables."