Intrauterine Ball: The next generation of 'smart' hormone-free IUDs
Intrauterine drug-delivery technology aims to improve women's health and quality of life with ball-shaped device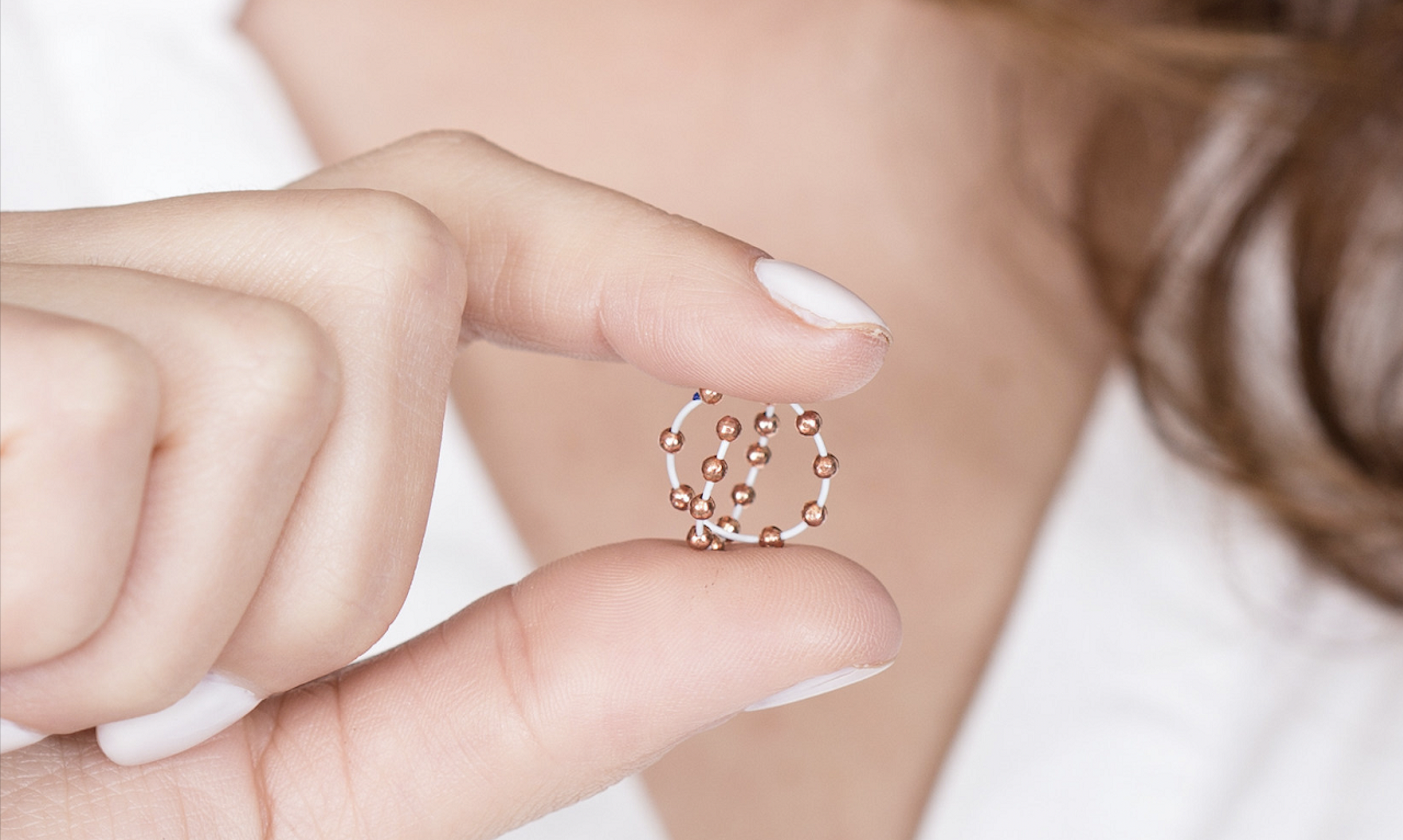 The Intrauterine Ball can be both a contraceptive device and a carrier for multiple drugs to the uterus to treat a variety of conditions. Daniela Schardinger, Ocon's VP marketing and medical affairs, tells FemTech World how the device could decisively change the IUD market. 
The first intrauterine device (IUD) was developed in 1909 by the German physician Richard Richter. After the increase of IUD use in the United States in the late 1950s, physician Howard Tatum determined in the 1960s that a T-shaped copper IUD would work better with the uterus shape.
"60 years ago, the tools and technology gynaecologists used were completely different than what we have today," says Daniela Schardinger, Ocon's VP marketing and medical affairs.
Schardinger has been working in women's health for over 10 years and says that up until recently, the idea that the uterus is a flat organ was widespread. "Within a flat triangle, it made sense to put two dimensional devices," the VP explains.
"But after learning that the uterus is, in fact, a three-dimensional cavity, we realised that traditional two-dimensional devices with designs that don't fit well can cause issues such as pain, bleeding, perforation and malposition."
A three-dimensional, ball-shaped device seems, therefore, a much safer and flexible option that maintains its shape and adjusts to contractions.
The intrauetrine ball (IUB) Ballerine, a copper-based hormone-free intrauterine contraceptive, is Ocon's first product. The IUB, effective for up to five years, has already been used by over 120,000 women in countries across Europe, South Africa and Israel.
"The idea was essentially to have a better fitting design that fits both women's anatomy and lifestyle better, minimising side effects," says Schardinger.
A lack of research along with a lack of funding have led to little to no innovation in the IUD market. Despite an increase in the use of IUDs globally, larger surveillance studies have provided new estimates about the risks of complications such as perforation, especially in postpartum and breastfeeding women, according to the Journal of Contraception.
"We don't know enough about women's anatomy and the female body," Schardinger thinks. "If you look at studies done on IUDs or on most women's issues, they were all completed more than 30 years ago. There's not recent research and women, in general, were not included in health research enough.
"But there's also a lack of tools and a lack of education. I think [the sector] needs a systemic change altogether, to allow women to become drivers of new research that's so desperately needed."
However, educational content is still very much limited. Schardinger says that getting the message across is made even harder by social media giants that block a large number of contraception-related posts.
"We don't talk about these issues enough," she points out. "That's also one of the reasons why we see a certain level of distrust towards IUDs. It takes other women sharing their experiences and starting the conversation around intrauterine products. With any innovation, there are early adopters and those who might wait a little bit longer and see.
"What we did was to design the thinnest insertion tube that can minimise the pain of insertion, but also the size of the product itself, so that women who haven't given birth yet can wear it as well."
The IUB Ballerine has received positive feedback, with over 80 per cent of users recommending it. "We're still in early stages," the VP tells me. "We're expanding and we're trying to make it widely available, but it's not always easy to get through. We're not available in the UK yet, but we're working towards reaching that market."
Ocon is also working on developing and improving its platform. IUB Spherical Endometrial Ablation Device (SEAD) is a pain-free in-office solution in the treatment of abnormal uterine bleeding and heavy menstrual bleeding the Israeli company wants to push forward.
"Procedures currently done in hospital are very, very invasive and painful," says Daniela Schardinger. "With the SEAD we've seen incredible results in our clinical studies. Our aim is to shape the future of women's health, and bring more options that are less invasive, better fitted for women's anatomy and adapted to their different life stages."
IUB SEAD is also a cost effective option that involves substance-derived ablation –  a procedure to remove a thin layer of tissue lining the uterus – technology, moving away from hormones, aggressive procedures and hysterectomies.
Schardinger is excited about the future, adding that a new movement empowers women to start researching, asking questions and demanding solutions.
"Because there are so limited options, I think any new modern technology for women is a win for all of us. We are 85 per cent women in our team at Ocon and we're all grateful for competition and for companies that bring products in this space," she adds.
"We're certainly not afraid of competition. I think every woman needs to have more than one choice and we should all be given more choices and alternatives."
For more info, visit oconmed.com.
Nurses left with no time for training amid "workforce crisis"
Disruption in health services has meant that face-to-face nursing courses had to move online
After they led the fight against Covid, nurses remain four times more likely to take their own lives than people working in any other profession. Michaela Nuttall, founder of the educational platform Learn With Nurses, tells us why they deserve better. 
The impact of the pandemic on healthcare services has been immense, reads a 2021 BMJ report. For the over 500,000 nurses in the UK, Covid's mental health toll has been intensified by physical and emotional exhaustion and an increased risk of burnout.
Despite interrupted training and fear of exposure to the virus, surveys have shown that nurses strived to provide excellent care and support for their patients and colleagues, sometimes at personal cost.
"Nurses were stretched more than ever during the pandemic," says Michaela Nuttall, cardiovascular nurse specialist and founder of the online educational platform Learn With Nurses.
"At a time when they were forced to work extra hours, look after their kids and take care of their parents, they were left with little to no support and no time for training."
The sudden disruption in health services along with staff shortages have meant that face-to-face nursing courses had to move online.
However, letting people have time off for training proved extremely difficult, says Nuttall. "Because nurses can't be at work during training, many were left with no access to training."
Having worked in cardiovascular disease training herself, Nuttall decided to host a Zoom meeting about the importance of blood pressure control at the start of the pandemic and invited people to join through social media nursing groups.
"I was really missing training and I wanted people not to forget about cardiovascular disease," she explains. "I put the Zoom link online and about 200 people registered for the first session.
"The need was definitely there. So, I started working with other nurses to build a bigger platform and we went from nothing to everything in a very short space of time."
Learn With Nurses, now a global online community of specialist nurses, provides free educational support to healthcare professionals and helps them improve the quality of care while promoting evidence-based clinical practice guidance.
"It is not meant to replace formal training," the founder says. "Our aim is to make training much more accessible and give people a free platform where they can learn, ask questions and interact with other healthcare professionals. We now use a platform called MedAll instead of Zoom because it makes our job much easier and allows thousands of people to join and we try to have a relaxed style that almost feels like you're talking to a friend over a coffee."
The courses, delivered in bite-sized sessions of 30-40 minutes, cover a different subject each week, allowing nurses to understand some of the most common health conditions they treat in hospital.
"We've made a commitment at the beginning that we will always provide our courses without any barriers to learning," Nuttall says.
"People tell us how much Learn With Nurses has helped them and although we are looking at memberships and donations to help us fund the training, we don't want money to be a barrier."
Nurses like Nuttall say that the NHS is still facing challenges. According to the cross-party Health and Social Care Committee, health services in England are currently facing "the greatest workforce crisis in their history" with the NHS losing millions of full-time equivalent days to staff sickness caused by anxiety, stress and depression.
"Nurses remain under extreme pressure," says Nuttall. "Almost 90 per cent of them are female and they need our support more than ever.
"Our ambition is to give more visibility to all nurses, but particularly to those from minority backgrounds. I hope that through Learn With Nurses they will find a diverse community where they could feel represented and supported."
Step us for breastfeeding: educate and support – WABA 2022
This year World Breastfeeding week's theme is 'Step us for breastfeeding: educate and support'.
The World Breastfeeding week (WABA) 2022, which takes place from the 1st of August until the 7th, focuses on strengthening the capacity of actors that have to protect, promote and support breastfeeding across different levels of society.
WABA's aims to inform and educate governments, health systems, workplaces and communities to strengthen their capacity to provide and sustain breastfeeding-friendly environments for families in the post pandemic world.
Anwar Fazal, Chairperson at WABA, said: "World Breastfeeding week is a vibrant global movement that expands and connects the power of one with the power of many. Only by working together we can make the changes we need."
Breastfeeding is key to sustainable development strategies post-pandemic, as it improves nutrition, ensures food security and reduces inequalities between and within countries.
The theme is aligned with the thematic area one of the WMW-SDG 2030 campaign which highlights the links between breastfeeding and good nutrition, food security and reduction of inequalities. 
The World Health Assembly (WHA) aims to increase the global rate of exclusive breastfeeding to at least 50 per cent by 2050. This policy aims to increase attention to, investment in, and action for a set of cost-effective interventions and policies that can help Member States and their partners in improving exclusive breastfeeding rates among infant younger than six months.
Exclusive breastfeeding is a cornerstone of child survival and child health because it provides essential, irreplaceable nutrition for a child's growth and development. 
It serves as a child's first immunisation, providing protection from respiratory infections, diarrhoeal disease, and other potentially life-threatening aliments.
Exclusive breastfeeding also has a protective effect against obesity and certain noncommunicable disease later in life.
Yet, much remains to be done to make exclusive breastfeeding during the first six months of life the norm for infant feeding. Globally, only 38 per cent of infants aged zero to six months are exclusively breastfed.
Recent analysis indicate that suboptimal breastfeeding practices, including non-exclusive breastfeeding, contribute to 11.6 per cent of mortality in children under five years of age.
Breastfeeding could be a powerful tool to meet the 17 United Nations Sustainable Development Goals as it can be linked to all of them.
Amal Omer-Salim, executive director at WABA, said: "By focusing on a broader context, longer timeframe and practical yet ambitious goals, we can create sustainable and engaging campaigns."
Indian digital health platform on a mission to provide affordable family care
Over 75 per cent of women in India experience postpartum anxiety while 25 per cent struggle with postpartum depression
As the country recovers post-pandemic, we asked Carina Kohli, founder of the digital health platform HUMM, why India desperately needs affordable and accessible family healthcare.
Although 76 per cent of healthcare professionals in India use digital health records, gender-based discrimination remains a prevalent issue.
According to a study conducted in 2016 by researchers at the All India Institute of Medical Sciences (AIIMS), the Indian Statistical Institute and Harvard University, only 37 per cent of women got access to healthcare compared with 67 per cent of men.
Recent figures show that 75 per cent of Indian women experience postpartum anxiety for up to 24 months post pregnancy while 73 per cent of them quit the workforce to start or raise a family.
When the pandemic hit, the country faced big question marks. A 2021 BMJ report found that Covid had a negative impact on the Indian healthcare system, with "the exaggeration of income inequality during lockdown expected to extend beyond".
"I grew up thinking that healthcare is a human right," says Carina Kohli, founder of HUMM, a healthtech company focusing on postpartum and postnatal care. "The reality is that in India, the majority of the population either don't have access to healthcare or can't afford it.
"I was diagnosed with PCOS when I was about 13 and I felt very isolated. I remember being very insecure and nervous and, aged 19, I started doing research on options for women's health and fertility in India."
At the peak of the pandemic Kohli and her team created a web application and launched Baby Space – a digital content and community platform for fertility, pregnancy and childcare.
"We grew that to about 16,000 people," she says. "But in a country like India where we still deal with issues of affordability, geographical accessibility and infrastructure. Therefore, we realised that access to healthcare is a primary need and we decided to pivot and rebuild [part of the system].
"So we established HUMM to offer affordable unlimited family health care to mothers, families and organisations with a focus on postpartum, postnatal, neonatal and baby care."
HUMM has a range of on-demand, solution-based health programmes as well as different tools with personalised insights, health plans and progress charts covering physical, mental and emotional health.
"Our incredible doctors and experts often chat with our users on social media and the HUMM app, answer their questions and essentially, build that trust," Kohli explains.
"Telemedicine has been around in India for a little while and people are now more open to options and they're more adaptable. They know that this can be a much more affordable and convenient option."
Has the pandemic helped digital health technology in this regard? "Definitely. The pandemic has influenced consumer behaviour to a great extent," the founder adds.
"There are still a lot of cultural barriers and people may not be always open about mental health or sexual health, but the response we've had has been really eye-opening and we found that couples felt less alone knowing that they had dedicated doctors and experts to speak to."
The lower costs and the one-to-one consultations with experts are what keep users coming back and Kohli says that receiving positive feedback is by far the most rewarding feeling for her, as a founder.
"We have great doctors in our country and I think information and awareness will definitely help us grow," she says.
"Our dream is to broaden access to healthcare services across the country because the need is definitely there. Currently, we are India-focused because it's a huge market where 25 million babies are born every year. But we are also looking at neighbouring countries that deal with similar issues. In the next five to seven years, we might consider countries across Southeast Asia."
Kohli would love to see more openness to femtech. Although there is a growing interest in the sector, women's healthcare remains underfunded. "I really don't like when people talk about women's health as a niche," the founder says.
"We are 50 per cent of the population and there is so much we need to do."
For more info, visit hummcare.com.